RM25.00 RM36.90
Please note product expiry is DEC 2017
Note: Clearance items /soaps came from our various counter, there might be discolouration and bruises to the items. However all products are still good to use and safe.
Yuan Sishen Chinese Herbs Soap- For Dry skin with whitening benefits
Its main ingredient, Chinese Angelica, is a potent anti-oxidant that helps prevent pigment formation and increases the skin's ability to fade melanin resulting in brighter skin. Also contains Job's tears which help reduce water retention. Overall this is a moisturizing soap making it suitable for normal/dry skin.
Ingredients:Water, Olea Europaea (Olive) Fruit Oil, Cocos Nucifera (Coconut) Oil, Poria Cocos Extract, Dioscorea Villosa (Wild Yam) Root Extract, Coix Lacryma-Jobi Ma-yuen Seed Extract , Angelica Polymorpha Sinensis Root Extract, Boswellia Carteri Oil, Apium Graveolens (Celery) Seed Oil
阿原四神皂-漢方精華柔軟肌膚(熟齡/乾性)
對外界環境有那麼多敏感與不適,
溫和滋養的種子可以為伴。
四神物性溫潤,富含澱粉質,
對於粗糙乾燥的肌膚很有幫助,
洗後柔軟賦予彈性,擁有好觸

Bloggers soap reviews
"The other thing about Yuan Soap is that it appears to be gentle enough for using on the face as well. Well, being a bit of a mad scientist, I tested it out for a few days in the evenings. To my surprise, my facial skin did not feel dry or tight after using it. I'd been conditioned to think that soaps are bad for your face but I guess natural and organic soaps don't fall into that category. Also, some stubborn spots have all but disappeared progressively over the course of usage. My skin has actually been feeling nice and smooth recently. Is it the soap? I can't say for sure, but I only use this soap in the evenings and just my regular skincare regime and thus far, everything's hunky dory yay! Yuan Handmade Organic Soaps from Taiwan ...Paris B, mywomenstuff.com.my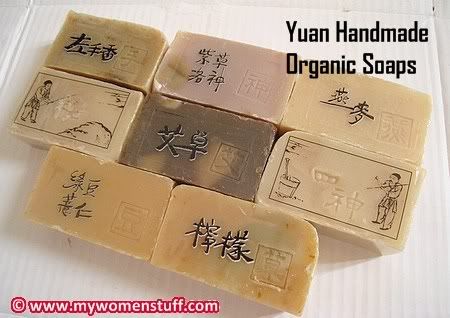 "All the soaps I've tried under Yuan Soap lathered very well. In terms of lasting power, I think Yuan Soap fare averagely which is actually a good thing. One thing I learnt during my DIY skin care workshop is, it may not be a good thing if your soap last forever because the soap base used may not be all that natural" ...Sesame, vivawoman.net