RM36.90
Yuan Mulberry & Chrysanthemum Soap - Healthy Skin regeneration
Mulberry leaves and chrysanthemums are naturally gentle and help healthy skin regenerations, frequent use will leave your skin looking younger, clearer, and smoother. Its mild antibacterial properties also helps soothe mild skin inflammation, a great soap to use to maintain healthy and beautiful skin. The subtle sweet scent from the soap will uplift your mood anytime!
Ingredients: Olea Europaea (Olive) Fruit Oil, Water, Cocos Nucifera (Coconut) Oil, Morus Alba Leaf Extract, Chrysanthemum Parthenium Flower Extract, Citrus Aurantium Amara (Petitgrain) Leaf/Twig Oil, Glycyrrhiza Glabra (Licorice) Root Extract, Citrus Limon (Lemon) Peel Oil
阿原桑菊花皂-提升肌膚活力滋潤肌膚(熟齡/乾性)
安撫潤澤,深層保濕,心靈跟著皮膚一起澄靜。
桑葉能提昇肌膚活力能力,菊花可以安撫緊繃的皮膚,
將兩者入皂後氣味芬芳,使肌膚光滑,呈現青春好活力
News featured in The Star Metro, July 26th, 2011
Handmade flower soaps help fight aging
INSPIRED by flowers, Yuan Soap founder Chiang Jung Yuan re-searched into a variety of flowers before deciding to add two new soaps to the Yuan Flower Soap Series.
Chiang unveiled the soaps at a media workshop held in Kuala Lumpur recently. He also shared his philosophy on love, life and the power of nature.
Chiang also expounded on how he used nature as a basis in finding the right natural compositions in flowers, plants, roots, leaves, stems and creating soaps to suit specific needs.
Freebies: Cutting handmade soaps to pass out as samples.
Chosen for their anti-aging, anti-oxidant and moisturising properties, he picked the Alpinia Speciosa from the ginger family and Tithonia flowers from the daisy and sunflower families to develop into soaps for the body and face. Other soaps in the series are the Honeysuckle Soap and the Mulberry & Chrysanthemum Soap.
Alpinia Speciosa, also known as Shellflower, is found in many Japanese skincare products where it is prized for its benefits in rejuvenating dull and tired skin. It also helps to moisturise dry skin and tighten pores.
The soap made from Tithonia, also known as the Mexican Sunflower, is suitable for all skin types. It acts to lighten age spots naturally, preventing wrinkles while improving dry skin conditions.
The Mulberry & Chrysanthemum soap is naturally mild, cooling to the skin and helps healthy skin regeneration. Ingredients such as Mulberry leaves, chrysanthemum, liquorice are anti-aging as they are rich in anti-oxidants properties.
If you have lacklustre skin or skin that is inflamed, the Honeysuckle soap can help rejuvenate and calm. It is enriched with Liquorice, Chrysanthemum, Perilla, Verbena and essential oils.
"The Flower Soap series uses pesticide-free flowers and is enriched with natural plant oils such as avocado oil, wheat germ oil, olive oil, coconut oil; essential oils such as rose geranium oil and roman chamomile essential oil and honey to ensure it nourishes the skin and protects it from aging," said Chiang.
The soaps are handmade and are 100% natural and organic. They do not contain SLS, parabens, synthetic fragrance or artificial colours.
Bloggers soap reviews
The other thing about Yuan Soap is that it appears to be gentle enough for using on the face as well. Well, being a bit of a mad scientist, I tested it out for a few days in the evenings. To my surprise, my facial skin did not feel dry or tight after using it. I'd been conditioned to think that soaps are bad for your face but I guess natural and organic soaps don't fall into that category. Also, some stubborn spots have all but disappeared progressively over the course of usage. My skin has actually been feeling nice and smooth recently. Is it the soap? I can't say for sure, but I only use this soap in the evenings and just my regular skincare regime and thus far, everything's hunky dory yay! 
 ...Paris B, mywomenstuff.com.my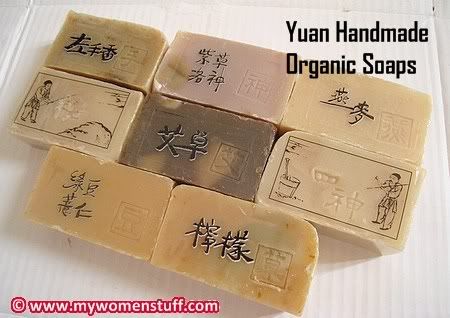 "
All the soaps I've tried under Yuan Soap lathered very well. In terms of lasting power, I think Yuan Soap fare averagely which is actually a good thing. One thing I learnt during my 
DIY skin care workshop
 is, it may not be a good thing if your soap last forever because the soap base used may not be all that natural" ...Sesame, vivawoman.net